Most Excellent Apps To Record The Screen Of Your Cell Phone
Have you ever thought about using video in your content marketing strategy? If your answer is yes, you have probably already looked for equipment for it. But did you know that now you can start using applications to record your computer or mobile phone screen?
You may not have considered it, but there are plenty of reasons to capture the screen of your devices and use that content in your digital marketing strategy.
For example, if your company's product is software, it is possible to show it works in all its glory. Another good idea is to develop tutorials that teach how to access certain features, correct bugs, or troubleshoot the program.
But for all of that, you need the right apps. Have a look! And we've come to help you with a list of perfect software for this function.
Best applications to record the cell phone screen
We'll start our list with the apps that capture your phone's screen.
In addition to recording with your computer, it is also possible to capture the content of your cell phone screen. There are apps of all types, with different functions, either for Android or iOS. Check out the list!
Record it
This application for iOS allows the user to record the content of the screen of their mobile device, be it an iPhone or an iPad.
In addition to recording the smartphone screen, the software also captures the user's reactions through the device's front camera. It allows edits to add audio tracks (such as comments or narrations), cut unwanted parts, insert video filters or alter its speed.
The application has a quick export system for YouTube, but it also allows to export the content by email for other apps.
The free version has a 3-minute limit for videos, but the paid version allows the content of any length.
AZ Screen Recorder
One of the main options to record the content of your Android smartphone or tablet screen is AZ Screen Recorder.
The application has everything: an easy-to-use interface (with buttons above the screen, but do not interfere with the recorded content), a small editor to put together the content, and even the possibility of recording the content of the front camera apparatus.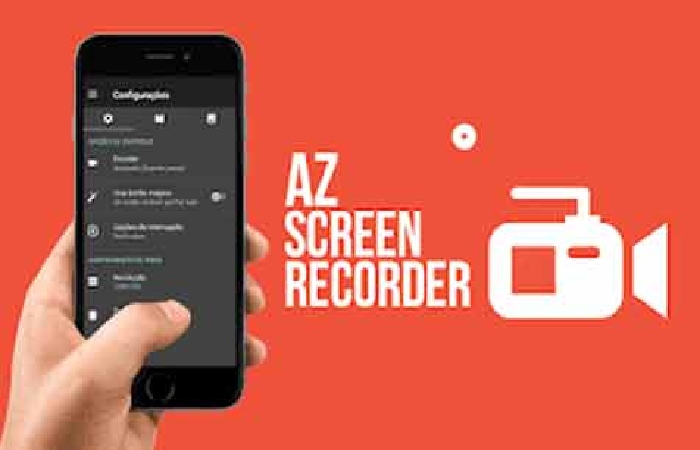 To improve, it is very light and does not consume much RAM or storage capacity of your mobile device.
In its free version, the application does not place a usage time limit or watermarks. It also has a professional version with some extra benefits.
Go Record
Another application to capture the content of the smartphone screen is Go Record. It is one of the most popular on the App Store, and for a good reason: it is very lightweight and has a very user-friendly interface.
The Face Cam feature also allows adding user reactions to content through the device's front camera.
Go Record has a small editor, with which the user can make quick cuts to remove unwanted sections of the video and a function to record audio and add comment strips.
It allows you to export the video directly to YouTube or save it in the device's gallery. The application is free, but only if it is compatible with the iOS version or higher.
DU Recorder
DU Recorder is a free application to film the screen of your smartphone or tablet. The software stands out for having support in about 20 languages (including Spanish, of course) and a very easy-to-use interface.
An internal editor allows you to make small cuts and remove sections with errors or recording failures. Other cool features include recording with the device's front camera and even making GIFs from your videos ( and you know we love GIFs !)
Finally, the Android application records in 1080p with 60 frames per second and is completely free.
Screen Recording Video Capture
If you like editing and adding many graphic elements to your videos, this is the ideal application for you.
In addition to the essential functions (such as recording the screen, inserting reactions from the front camera, adding audio tracks), Screen Recording Video Capture stands out for its visual support to users.
There are more than 200 fonts ( including some from famous movies to use when writing something in the video, 90 specific filters, and hundreds of stickers. You can even put a thumb up or other gestures on the images.
The app is available for iOS and is free.
RecMe Free Screen Recording
RecMe Free Screen Recording is an exclusive application for Android with all the functions we could want.
Records videos in Full HD resolution (1080p), with 60 frames per second, and captures audio through the user's microphone.
The application comes in a free version with all these functions and a professional version, which has the advantage of being able to insert the user's reaction captured by the front camera of the cell phone.
Its interface is very simple to use, and in a few seconds, anyone can start recording their videos.
An interesting detail is that the application has a beautiful design, which looks great with the Android model.
These cell phone screen recording apps allow you to add a series of videos for your marketing strategy, either demonstrating your products, clarifying doubts or just giving presentations.
You Can Also Read These Articles Too:
Chennai Express Full Movie Free Download and Watch
Andhadhun Full Movie Download Filmyhit – Watch Free
Tik Tik Tik Movie Download Tamilrockers Watch Free
Dil Diyan Gallan Movie Download Filmywap for free
Asuran Full Movie Download Kuttymovies Watch Free
Sherlock Holmes 2 Tamil Dubbed Watch Free
How to deposit and withdraw money from an online casino?
3 Ways Technology Can Improve Your Customer Service And Bottom Line
What is the white-label drone services case study?