What Is Managed WordPress Hosting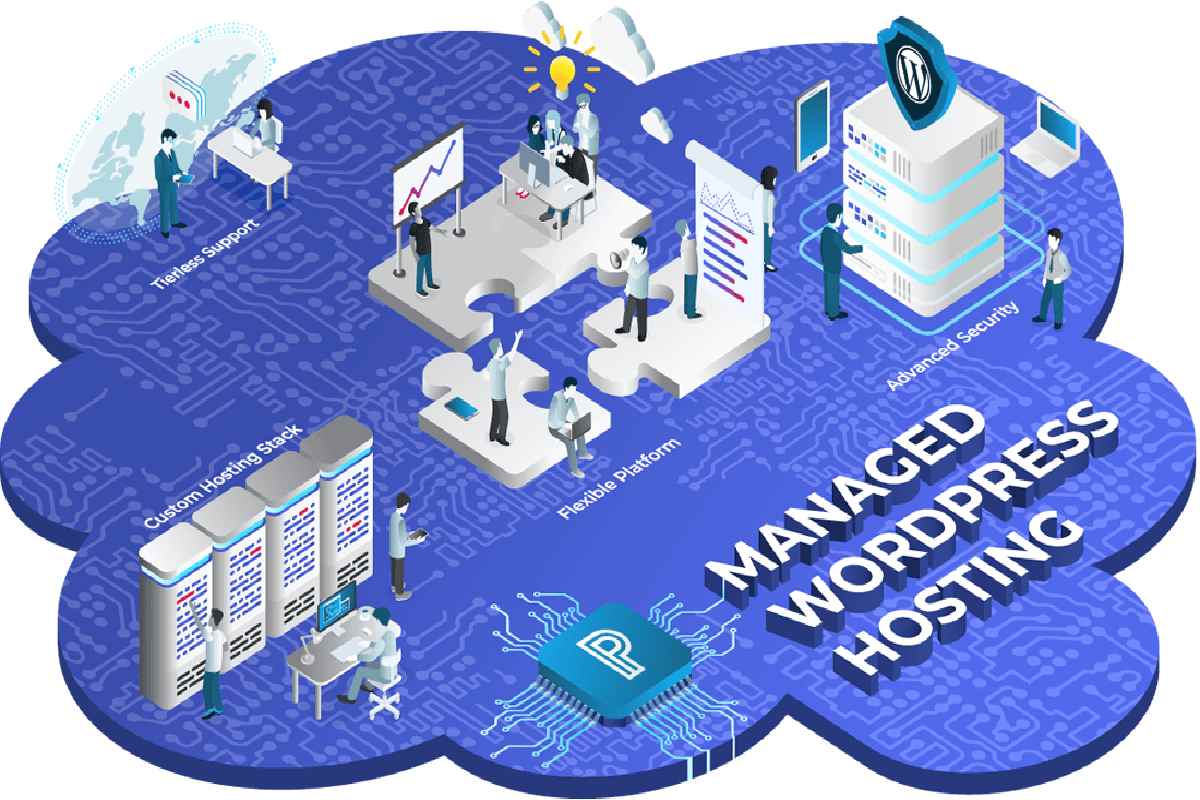 WordPress is an extremely versatile and popular content management system that is used all over the world to build and organize websites for individuals, businesses and organizations. Originally a blog-based system, WordPress can expand its core functionality easily with add-on code known popularly as "plugins," allowing a site to run everything from an elegantly designed e-commerce store to a manageable public forum. However, one of the most important facets of how well a WordPress site runs lies in its web hosting and the management services around it.
What Is Web Hosting?
Web hosting is the physical act of storing your website data and making it available to the world through a domain, otherwise known as a website address. Most individuals and organizations pay a company to do this for them, which also usually includes maintenance of the servers where your data resides as well as customer service for your site. Sites are usually hosted either on a shared server, a private server or a virtual private server. If it's a shared server, that means several websites are hosted on a server at the same time. If it's private, you are the only site on the server.
What Is Managed WordPress?
Managed WordPress hosting refers to a specific service offered by some providers. In essence, managed WordPress hosting has an extra layer of support, beyond the hardware maintenance of servers and basic software maintenance. This usually involves extra services like updating your WordPress installation for the sake of security, running assorted malware checks on a scheduled basis, automated site backups on a scheduled basis and more.
What Are the Benefits of Using Managed Hosting?
With managed hosting, much of the burden of standard website maintenance is off of your shoulders. With managed WordPress, everything about the server you are using is optimized specifically for the best possible performance of the WordPress system. Some services even have additional specialized and streamlined services that can help build specific types of WordPress sites, such as Nexcess StoreBuilder, for setting up anything from secure e-commerce sites to other niche market sites.
Is Managed Hosting Needed for Every Site Owner?
One big difference, in general, between standard hosting and managed hosting is cost. Managed hosting is almost always more expensive due to the extra service provided. Another less likely issue for most website owners is the need to be in control of the settings that managed hosting provides. If your organization requires extremely specific security or performance settings, you most likely will have a person or group of people managing this for you in-house, negating the need for such a service. However, for most businesses and organizations, this is an extremely rare need.
Where to Go from Here
Before making a decision on the type of hosting you need, it pays to do research in earnest before committing to a hosting plan. If you are the head of an organization, be sure to seek the advice of your own tech professionals and similar decision makers in your own network to determine what works best for you.